After two transformative years, Weaving Earth is leaving our program site in east Sonoma county. We're sad to leave a place we've come to love. Yet there's also excitement as we transition to a beautiful and wild property in west Sonoma county. We are profoundly grateful to have landed in a truly amazing new home, and we know many future stories will come from that place. And, as we stand at this threshold, it feels important to honor the place that we are leaving: a place we have invested a great amount of time and energy into, and with which we have built strong ropes of relationship. In going, we're happy to be able to say with confidence that we are indeed leaving things better than we found them.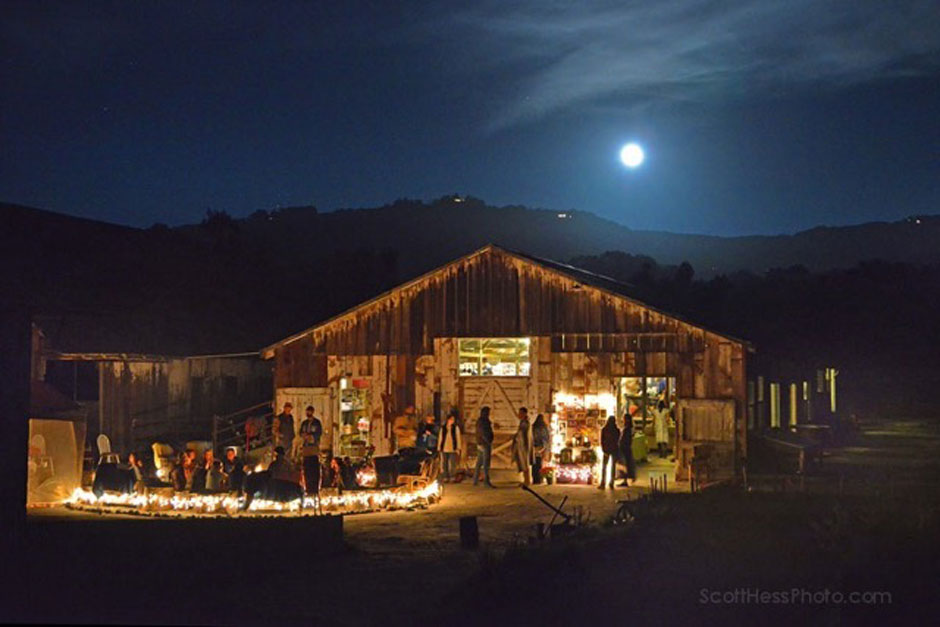 A beautiful full moon evening outside the barn at Slow Creek Ranch. Photo by Scott Hess.
Before
When we arrived onsite at Slow Creek Ranch two years ago, much was in disarray. A major dairy operation had operated there for generations and the impact could be seen all around—rusted cattle guards, dilapidated barns, compacted soil, fields of star thistle… and manure. Lots of it. Literally feet deep in some places.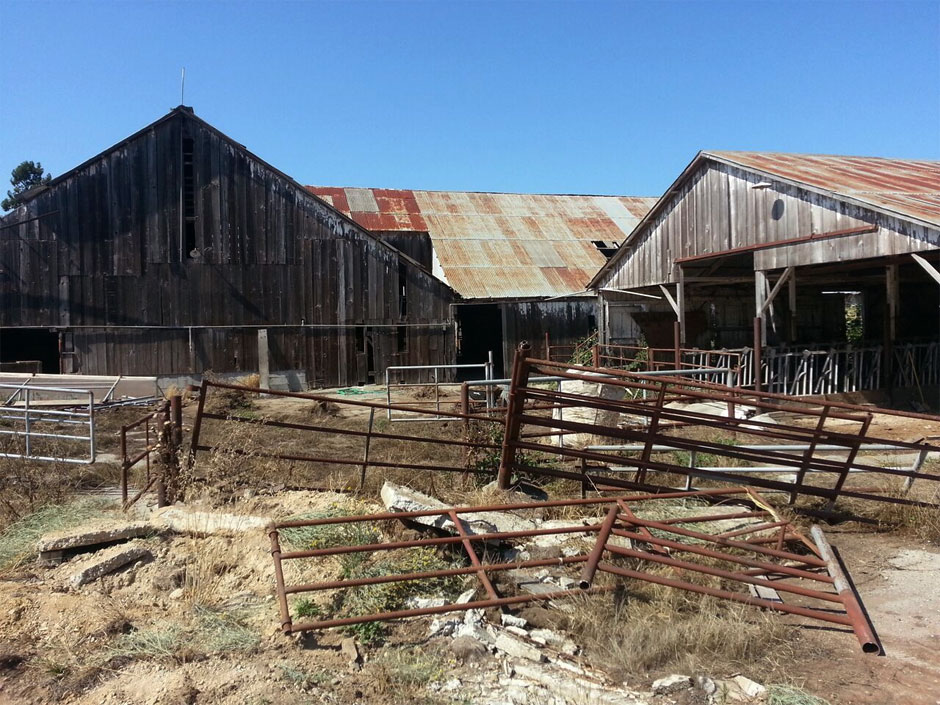 A maze of old cattle gates outside of a dilapidated barn greeted us upon arrival.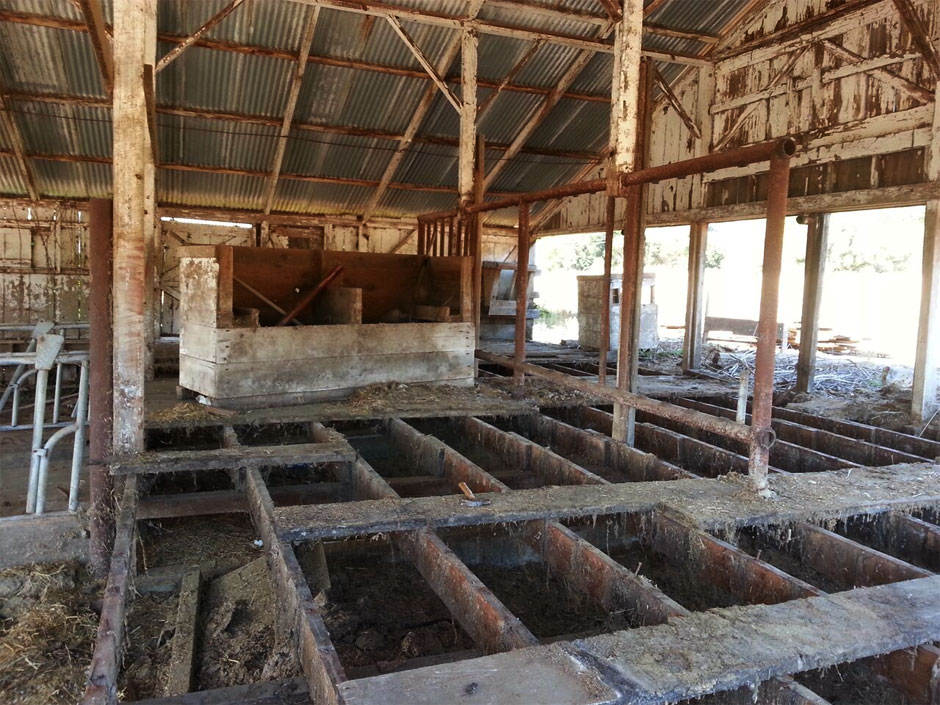 This barn became one of our primary indoor spaces. This photo is of what became the kitchen.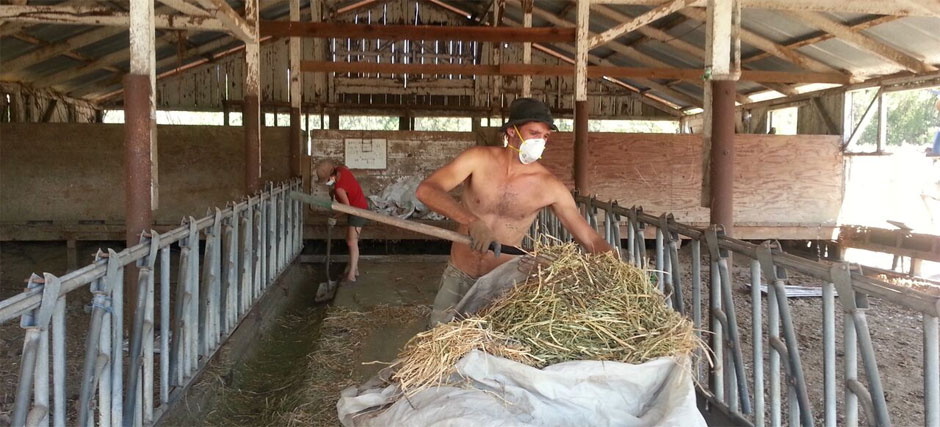 Lauren and Will shoveling hay and manure from the barn.

This area became the central zone of the WE Immersion village.
Regenerative Vision
To the dreamer and the visionary observer, there was, within all of that apparent chaos, a great seed of possibility—the opportunity to regenerate a place that had been heavily pressed upon by humans, seemingly to a breaking point. The eyes of the long-term designer could see the way in which the land might be returned by a wise and careful hand to health and bounty. And so WE, along with the other residents of the land, got to work.
Some transformations are rapid. This one was not—and likely won't be. Regenerating land is slow and steady work. Nevertheless, as the weeks and months went by, we began to see real change taking root. Thankfully, even though Weaving Earth is saying goodbye for now, that change will continue through the residents. They started and have been running the organic Coyote Family Farm onsite and are deeply committed to the vision of regeneration that guided our stay there.
For at least 11,000 years before Weaving Earth and the dairy farm, this piece of land was inhabited year-round by Pomo and Miwok California Indians. In our efforts to reawaken an ethic of stewardship and reciprocal relationship with the earth, we were and are deeply indebted to these local indigenous communities and their land-based wisdom.
We depart from Slow Creek Ranch with bittersweet feelings. We will miss the people, the striking light that pours through the valley at sunset, the brilliant winter stars, the way the creek surfaces and swells with substantial rain, the healthy population of lizards, the fresh veggies from the farm, the nighttime chorus of frogs from the pond in spring, the dependable visits from eagle, bobcat, gray fox, lazuli bunting, owl and so many more. And yes, we will also miss the piles of concrete (home to many ground squirrels), the plants planted, the continued magic that first brought us there and continually kept us there, and of course, the chance to participate in the rehabilitation of place, people, and all the fertile points where the two intersect.
What follows are some photos that show the work we put in to Slow Creek Ranch. We hope you enjoy these images of transformation and possibility. There is much work to be done in the world. With vision, strong relationships, community support, and love at the center, it is absolutely doable.
After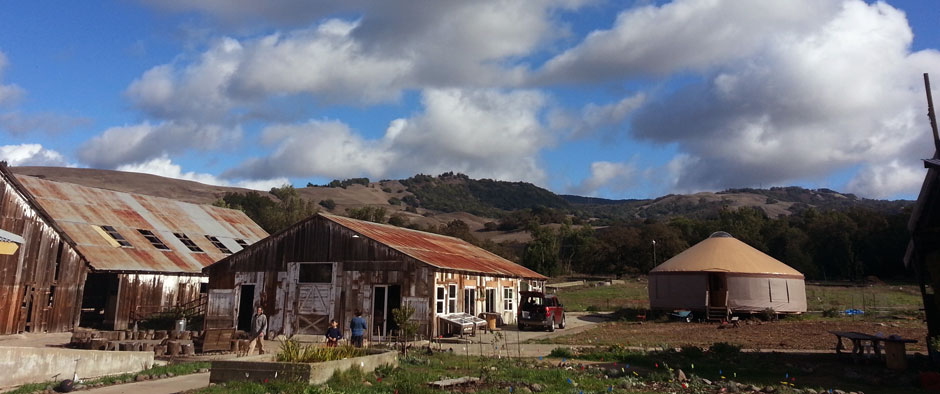 The central WE village, after a lot of work!

Here's a before photo again to see the juxtaposition.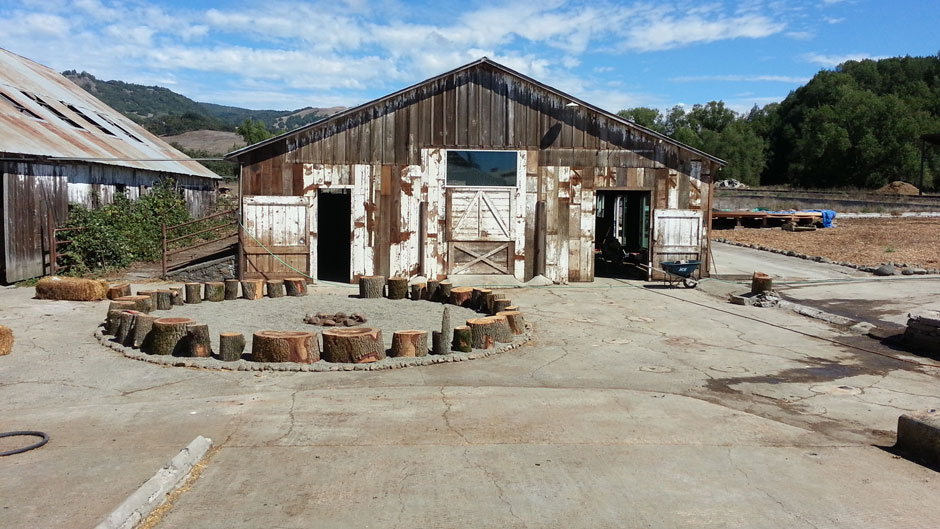 Our central fire, right before the first year of the WE Immersion started in 2013.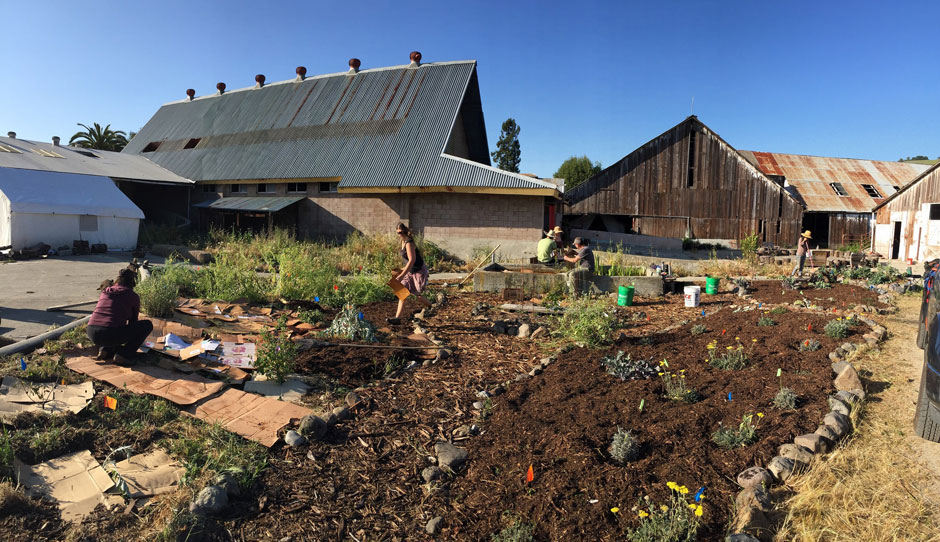 Installing a garden during the WE Immersion.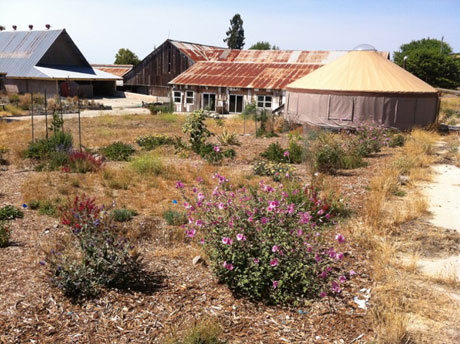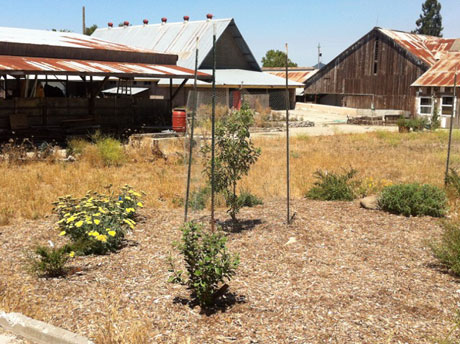 The WE Immersion installed a native food and medicine garden in the spring of 2015. It's growing beautifully!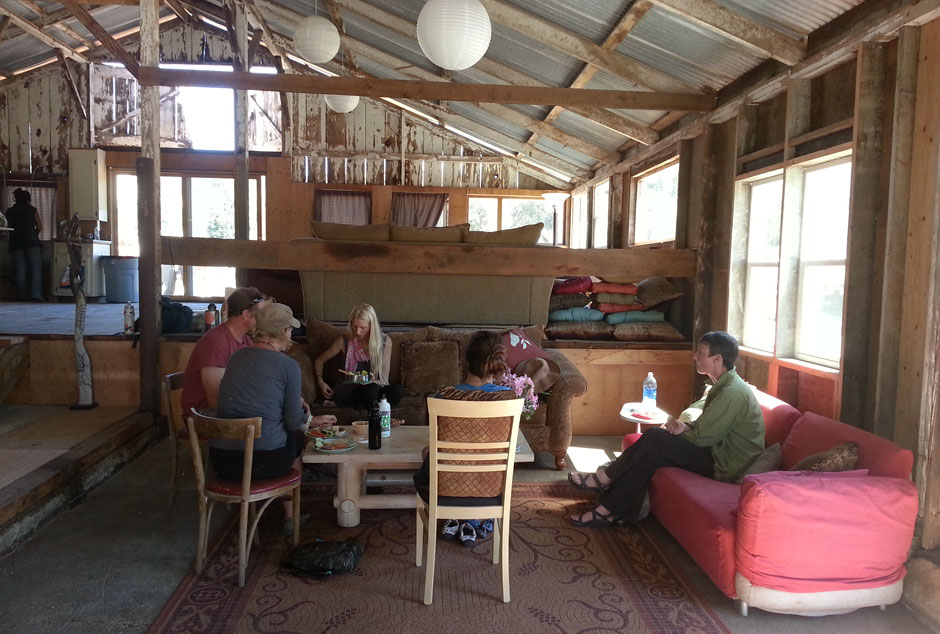 Enjoying a meal together in the refurbished barn.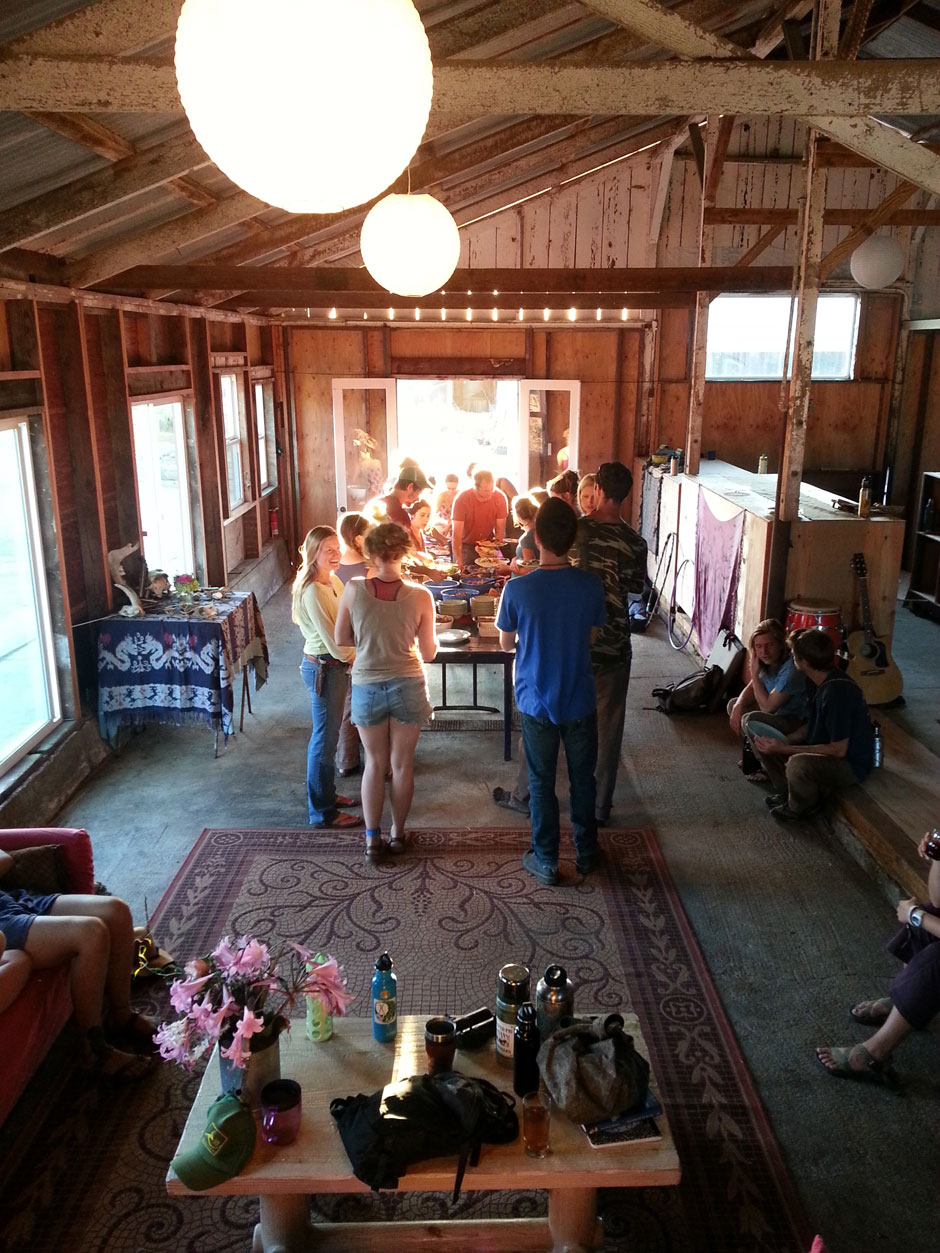 Potluck!