This post was written by Emily Foubert, a participant in the Beyond Boundaries (Year 1) track of the Weaving Earth Immersion. Emily writes a blog called "Becoming Coyote" that follows her journey as a young naturalist. Thanks for allowing us to post this beautiful reflection, Emily!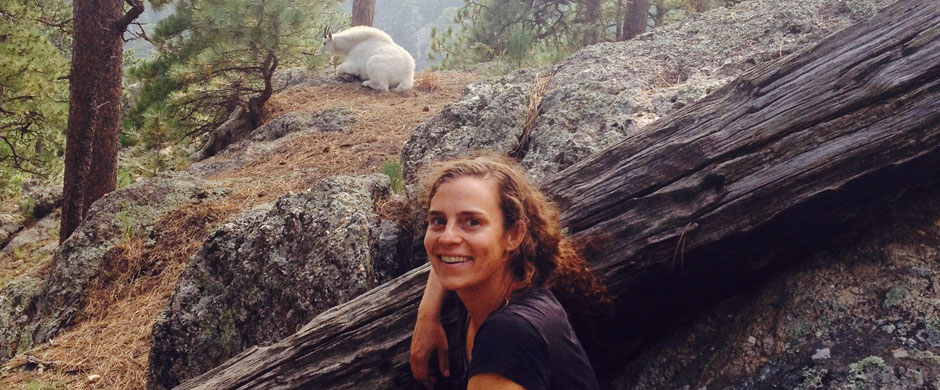 Foreground: Emily. Background: Mountain goat. Clearly an epic day.
---
I left Minnesota in the heat of summer. A Minnesotan, sweltering-hot summer. A sleep with your tongue hanging out, naked with the windows open and an ice pack on your head kind of summer. Humidity. Glorious humidity that infused my curly locks. My skin became lush and soft as the thunderclouds awoke and lightning set my flesh buzzing.
I came to California expecting to breathe in the wet redwood climate, foggy and fluid. This morning I woke up with a dry cough, the night air having sucked up all of the moisture from my throat. My hair has been limp and cracked for weeks, I have invested in the most-conditioning "goop" I could find at the store. My thumb knuckles are flaking in patches, recalling a barren and baked lake-bed. Thank you Gaia Goods for your extremely moisturizing salve that will inevitably save my hands from withering.
My body is acclimating, mirroring the severe state of drought on this land. In the first two months of Weaving Earth, I did not quite understand the urgent nature with which my teachers spoke of the importance of honoring the water. A few weeks back, I carefully sprinkled drops around the fire built to thank our ancestors, bringing balance to the blaze. But reverence for water was not yet something that I felt in my body.
On Friday, I took off on an adventure to Point Reyes National Seashore. I meandered out to the McClure beach trailhead and began walking down the sandstone path to the ocean. Halfway down the trail I froze. I heard a song so sweet it took my breath away.
Water. Running water. A stream! I gulped in the babbling sound, more thirsty for the flow than I ever imagined. And so I stood for a while. A long while. Families and couples passed by, eager for the ocean waves, seemingly heedless to the stream's song below. I wandered down to the bank, took out my lunch, and feasted not only on my food but on the trickling current as well. I could hear the ocean in the distance, smooth and undulating. Two constant motions. One movement rolling, rocking me. The other steady and pouring. If these two waters were a band, the ocean would be the drum beat, the stream the voice. How blissful!
Returning from my adventure, that longing for the nourishment of water is now in my body, viscerally so. I feel deep gratitude for that stream. My reverence for water will now have an associative image: the white-crowned sparrows, juncos and voles, pecking and chewing on the bright green riparian foliage, juxtaposed with the brown coyote brush and gray grasses beyond. Such a fine line between oasis and dessert. I want to be like the redwood tree, collecting rain and moisture with care, giving thanks to each droplet, and honoring the water that makes up my trunk, my body.