"We have two options," I say, knowing in my heart that isn't exactly true. One path leads to more misery. The other to relief. Maybe.
"We can continue with our plan to make a big loop around Granite Dome and hope that somewhere is better than here, or we can get to high ground as fast as possible." I know what I want to do, but I want the group to make a collective decision.
For a moment, the boys consider this silently. Salt Lick Meadow, however, is anything but silent—mosquitoes are roaring towards us from every direction. The ubiquitous buzzing swells as the swarm doubles down on us. They seem to know we are having an important conversation and are determined to sabotage it.
It has been hard to do anything these past 48 hours, except get bitten. Hard to hike. Hard to eat. Hard to sleep—we are traveling without tents. Most of the boys were up all night, clinging in desperation to a fire despite the June heat. They might be losing blood—we all are—but not a drop of spirit.
One by one, they give impassioned mini-speeches about what we should do. When the circle is complete, consensus has emerged.
"Grab your bags, boys," says Nic. "We're gonna go climb a mountain."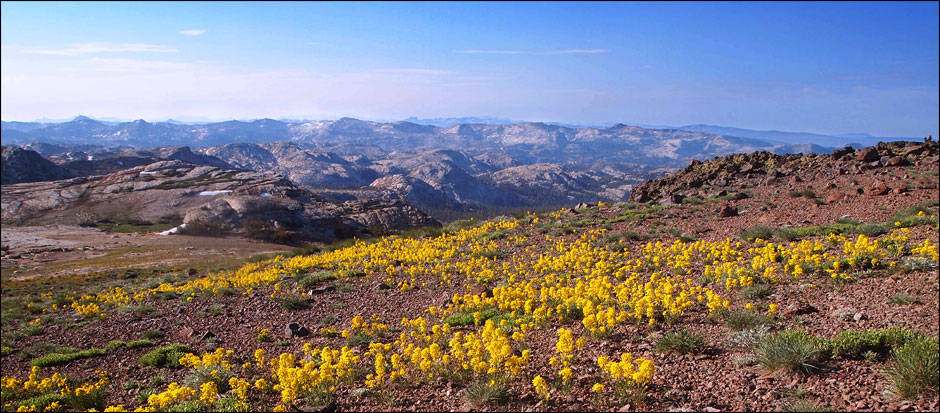 Alpine wildflowers on the climb to Granite Dome give way to a sea of undulating granite waves.
Red Bump Blues
California's Sierra Nevada mountains are home to six species of mosquito. Four have nice-sounding names: the tree hole mosquito, the black snow mosquito, the common snow mosquito and the cool weather mosquito. The other two monikers are a tad more serious: the western malaria mosquito and the western encephalitis mosquito. I'm not sure, but I feel like I've been harassed by most of them. Towards the end of our 8-day trip, we start joking that we can distinguish which of the six species is biting us by the subtleties of the buzzing sound it makes as it flies in to make its withdrawal.
There are nine of us in all. Six teenage boys and three guides. We've come to the beautiful Emigrant Wilderness in late June on this Weaving Earth backpacking trip for teen boys to fish, to track animals, to explore, to climb mountains, to make fire with sticks. To have a good time. The massive bloom of mosquitoes is an inconvenience, not a deterrent. In a strange way, it's a kind of blessing—it turns out that our collective suffering is an amazing foundation for group unity. Which is not a given, I know.
As we head north on our route to higher country, I consider again the reasons for climbing to higher ground. Ridge Lake sits at 9,219 feet, nearly 1,000 feet higher than Salt Lick Meadow and well above all of the other lakes we might have visited. Maybe the nights will be cooler. Maybe the bugs will be fewer. Maybe the fish will be plentiful. Such is the voice of hope.
Mostly, I feel thankful for the insanely positive attitudes of the people around me. This is a good group. Look at those faces!
The Good Group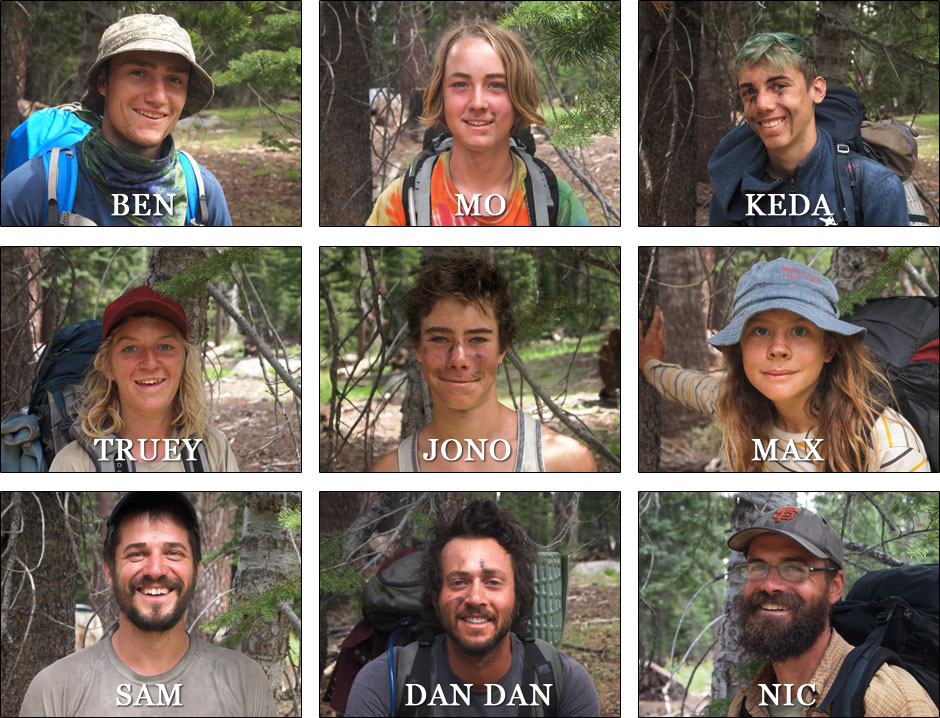 The Sweatiest Distance Between Two Points Is Straight Up
After two miles of hiking, Max stops and declares: "It's here. Time to turn off trail."
Max and Keda are on point today, which means they are hiking in front with the map. They are tasked with keeping the group on track geographically, but also physically—they set the pace and gauge when the group needs a break.
Before we turn off trail and step into the freedom of open country, Max and I set a bearing for due east. I had planned to give the group a tutorial on how to travel off trail using the map and compass, but the mosquitoes are the worst they've been all day.
"You know how to use this thing, right?" I ask Max, gesturing to my compass with one hand, swatting the air with the other.
"Yes," he responds. I can see confidence and excitement in his eyes.
Max and Keda make our route, threading the group from landmark to landmark as we follow our bearing. Soon, the forested landscape inclines steeply. Everyone is breathing heavy, stopping occasionally to fill their lungs. The young backpackers are impressed with how high we're climbing.
I love traveling off trail. If trails are classical music, open country navigation is jazz. The conversational possibilities between hiker and landscape increase exponentially. On trail, everything is prearranged. Off trail, individuality and creativity emerge. I like to think that you can tell a lot about someone based on how they move without a trail as their guide.
While thrilling, off trail travel has its downsides—for one, it dramatically increases the likelihood that sensitive lands will get trammeled by humans. I always do my best to step on sturdy surfaces—rocks, roots and pine debris—while avoiding fragile meadows to the greatest extent possible. The inimitable Doug Peacock sums it up beautifully:
I do not advocate anyone's leaving the well-used trail systems. The more we leave wilderness places alone, the better. But I hate trails and love to bushwhack, though I have an indolent nature that keeps me thinking about nature more than living it. When I do step off the human-travelled trails, I find myself leaving behind conventional expectations, launching myself into the thicket, pawing at the brush with anticipation, smelling discovery.
One hour later, we're enjoying a gentle breeze at the top of our first ascent. Our route will take us back down a few hundred feet before we climb again to Ridge Lake, so we take the opportunity to nap, which is blissfully uninterrupted by mosquitoes. There are hardly any around.
The Route to Ridge Lake
Post nap, we head towards a perennial creek that appears to be our safest route down towards the granite staircase that climbs to Ridge Lake. We find the creek fast, all of us pulled by the promise of jumping into cool waters when we finally reach the lake. The route turns slow going—we're hopping from boulder to boulder, skirting narrow ledges and shimmying down granite chutes as the creek canyon gets narrower and steeper. It's fun, and the boys are loving it.
But soon, it becomes clear that going any farther down the creek is too treacherous, even without 40 pound packs. We send Ben out to scout another route. Ben is 18, three years older than the next oldest boy. The younger ones look up to him and with good reason. He's sure-footed, dependable and competent. Scouting is a natural role for him in the group.
With a new route found, we continue our odyssey to Ridge Lake and soon find ourselves at the base of the great granite staircase that we have to climb to get there. The massive peaks that surround us seem to get taller and more impressive as we go. The lake's outflow is a torrent, and we pass many cascading waterfalls. It's hard in the moment to imagine anything more beautiful.
Finally, Ridge Lake comes into view. For many in the group, this is the first time they've ever encountered this kind of scenery. Nic, Dan Dan and I have been to many similar places. But the wonder of walking up to the rocky shores of such a gem never goes away. We all drop our packs and celebrate the beauty and the grandeur of our new home. Within minutes, most of us are swimming, bemoaning how cold the water is and also loving it.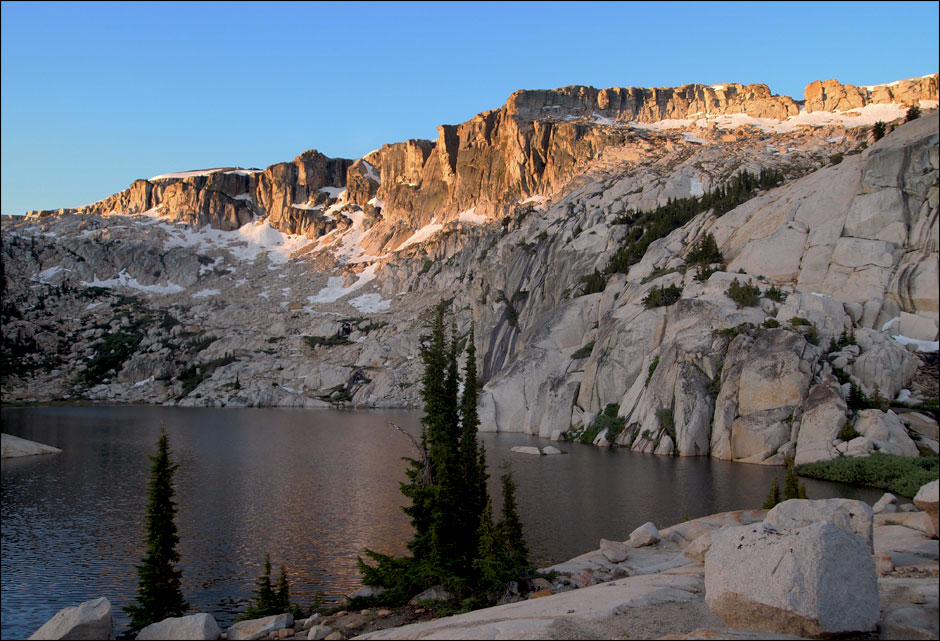 Ridge Lake at sunset. Taken from our campsite.
Peace is a State of Mind
Ridge Lake sits in a huge granite bowl, accompanied by a number of other high mountain lakes. We spend the next three days exploring the region. Our hopes for a mosquito-free oasis turn out to be naive. But all is well. The bugs may be bad, but we come to accept their presence. One boy who has had a particularly difficult ride with the bugs says to Nic: "I figured it out. All I have to do is eat something, keep moving, talk to people and I'm fine!" Now I'm convinced the bugs are a blessing. They are testing our limits of patience and offering a gentle reminder of how resilient we actually are.
We fish, swim, throw each other in the water, eat our dinner overlooking meadows that are thousands of feet below, and early one morning, climb more than 1,000 feet to the summit of Granite Dome. I'll let the pictures tell the story.
Reveling in the Range of Light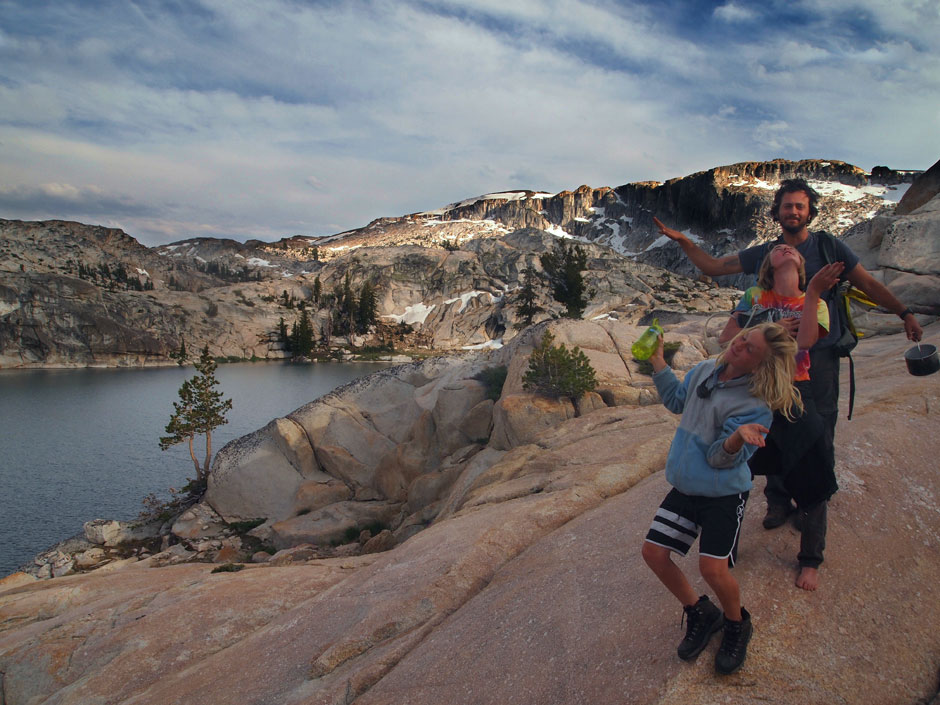 Truey, Mo and Dan Dan dancing on the way to our picnic spot.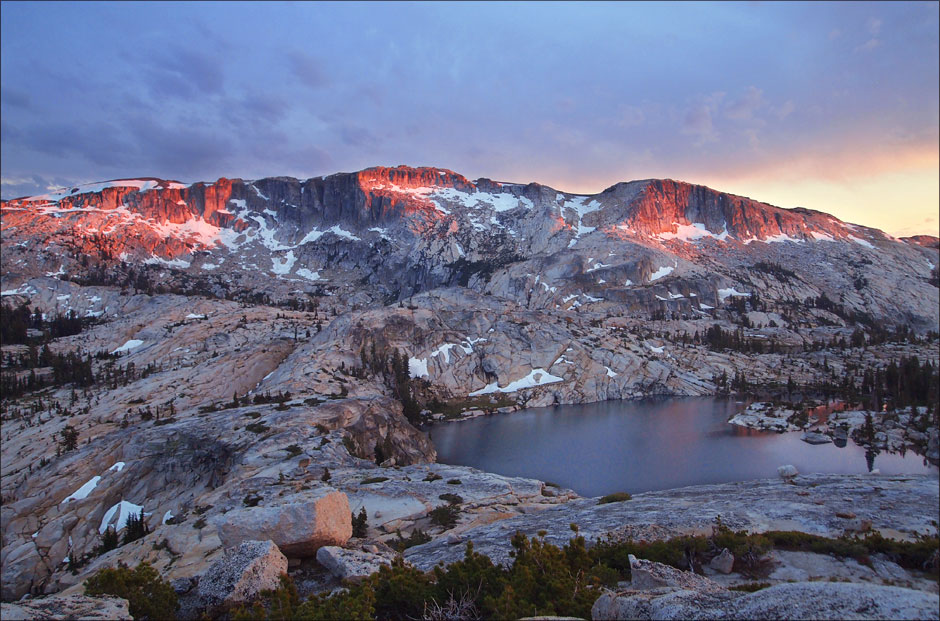 Alpenglow colors Granite Dome (10,322 ft.). This photo was taken from an unnamed small peak on the northeast side of Iceberg Lake, where we had a picnic dinner. Ridge Lake is barely visible beyond Iceberg Lake in the center right.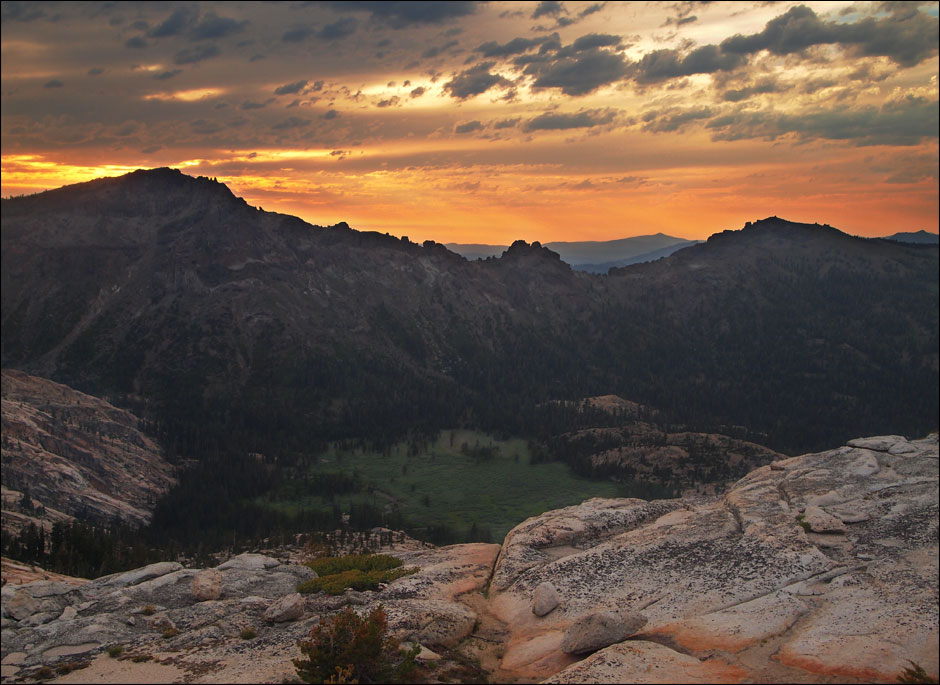 East Flange Rock looms over the Lower Relief Valley, as seen from our dinner spot.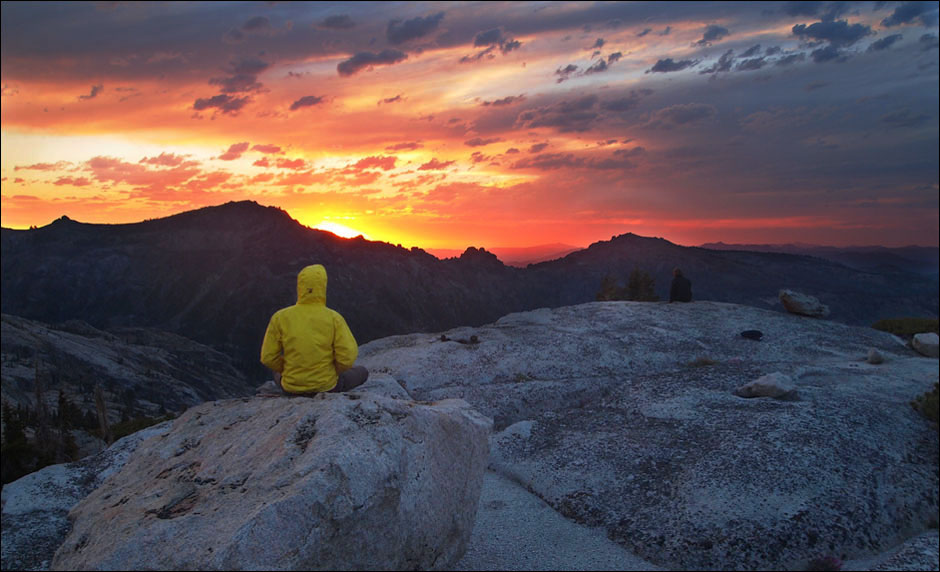 Dan and Mo watch an incredible sunset during a post-dinner sit spot. We all agreed on the absolute epicness of this evening.
Climbing to the Top of Granite Dome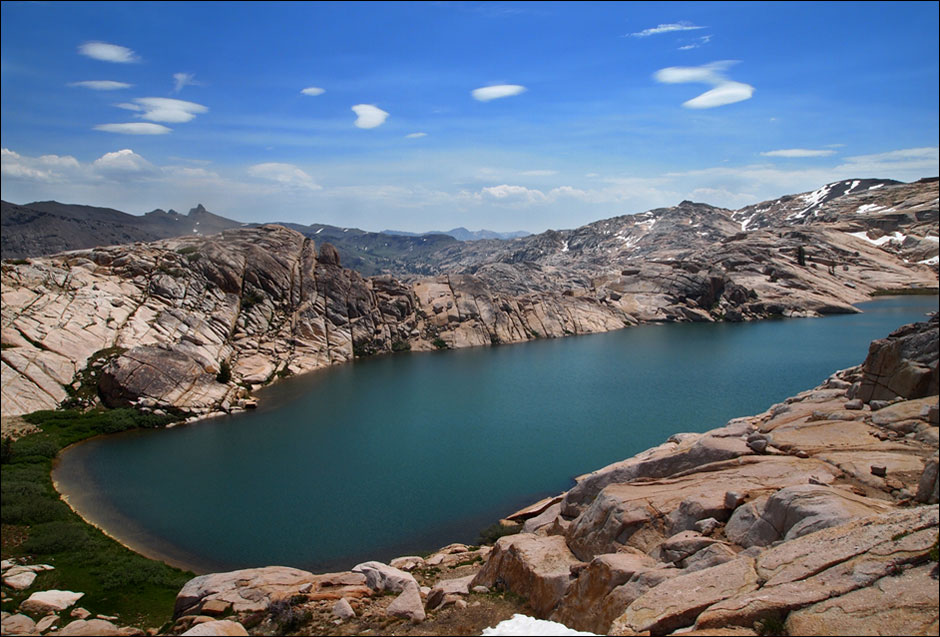 Upper Lewis Lake is one of the sights that greets us on our ascent of Granite Dome. Pretty sweet, huh?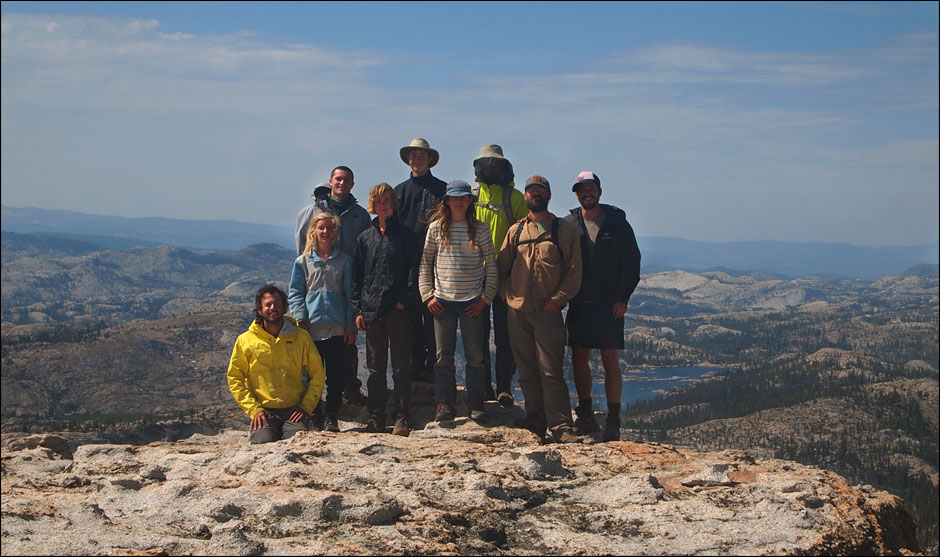 Group shot on the summit of Granite Dome (10,322 ft.). Keda assures me that he was smiling behind his bug mask.
Heading Home
After some solid adventures, we hike out towards Lower Relief Valley, exiting from the north side of Iceberg Lake. Mo is in the lead this time, and he finds a good route over the granite slopes and towards the lower stretches of the creek that we couldn't safely follow four days before. Our plan is to make it all the way to Lower Relief Valley, but we stumble upon an incredible spot that we name "Juniper Ledge," inspired by an ancient mountain juniper that overlooks the flat shelf where we decide to sleep. This is by far our favorite campsite. I'm sure that no human has ever slept here. It's magical.
In the morning, we thank Juniper Ledge and head back towards a trail that will shepherd us home. It's been four days since we've walked on a path or seen other people. Time accelerates on the final two days of the trip. Home is closer with every step, and what awaits each of us there begins to rush in. When we leave Emigrant Wilderness, tired, dirty and happy, we stop for a while at Pinecrest Lake, a mountain "resort" campground with a warm lake to swim in. It's surreal and none of us can tolerate the place for too long. We get ice cream before leaving and stand together in a circle surrounded by a throng of people. I realize then that the mountains haven't been our only refuge this week. This circle is a refuge, too, strengthened by our shared experience.
Weeks after we're back, Dan Dan pays homage to Juniper Ledge in a beautiful poem. His words are a fitting way to bring this telling of our journey to an end.
I read books about mountains and rivers, about wild flowers and
the old ways, seeking something.
In summer the books are under my bed
and my legs are tired from walking all day.
We sit on rocks eating macaroni and venison,
telling stories of far away places.
Gentle breeze rising from the valley below,
sound of water moving down hill,
"let's name this place!"
Juniper Ledge.
Aches and pains slip into the sunset,
I get lost, I get found, by the stars.
The mosquitos are gone, so pleasant.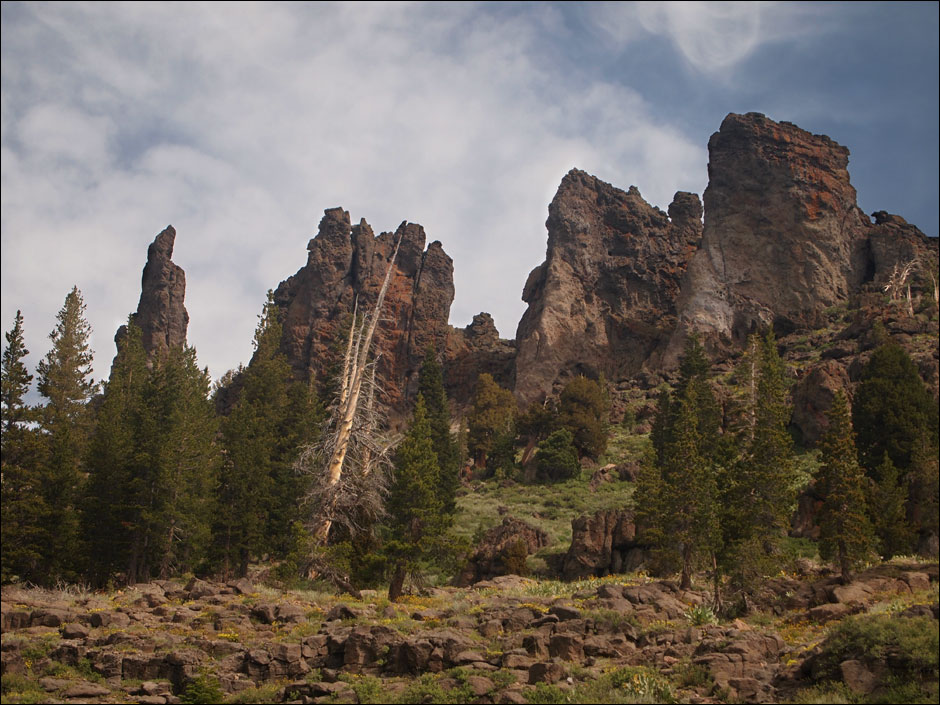 Rock formations along the trail between Coyote and Horse & Cow Meadows.
Mountain Wildflower Challenge
Do you know what the following wildflowers are? Hint: one of them isn't a wildflower :). Send me an email (sam – at – weavingearth.com) with the common names of the 8 species pictured here. We will enter all of the correct responses into a raffle to win a free Weaving Earth winter hat! Curious what the hat looks like? Scroll down and check out an amazing photo of WE co-founder Dave Hage's niece, Riley, sporting a WE beanie. I cannot guarantee you will look that cute in a WE beanie, but your head will be warm!