It's been an incredible year at Weaving Earth: powerful time in nature, strong connections with great people and lots of time for reflection. We are grateful for the many moments of collaboration, connection and relationship. Here's a look at some of the potency of the past year, starting with a short video montage and followed by some highlights.
Teen Wilderness Trips: February, June, July, September 2014
Weaving Earth staff co-led four wilderness trips for youth/teens in 2014. Three of the trips were through local high schools (Marin Academy and Credo High School) and the fourth was an open-to-the-public trip through the School of Lost Borders.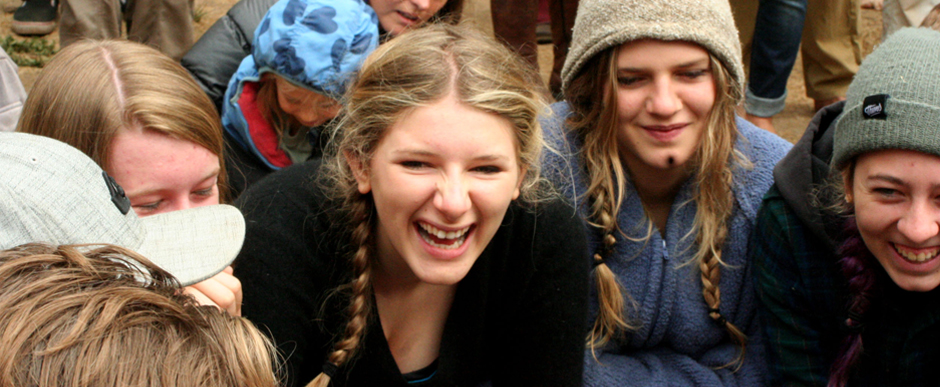 Teens gather and celebrate post overnight backpacking trip at the 2014 CA Art of Mentoring. Photo by Raleigh Campbell.
Tending to Grief in Community w/ Sobonfu Some (Dagara): February and October 2014
Esteemed Dagara teacher Sobonfu Some, from a West African village in Burkina Faso, visited Weaving Earth twice in 2014 to conduct a traditional ritual that works with personal grief in the community context. The ceremonies, which were open to the public, were beautiful and the conversations and emobodied experience around tending to grief as a community were powerful. We are grateful for Sobonfu's willingness and grace in sharing her traditions (and laughter!) with us.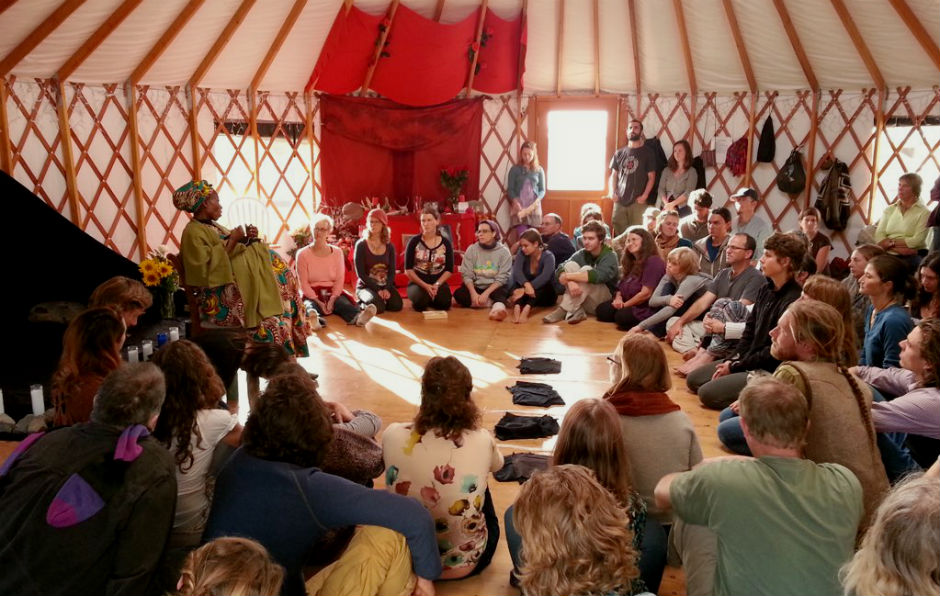 Sobonfu discusses the ritual with program participants during her October visit. Photo by Dave Hage.
Bird Language Intensive: April 2014
The Weaving Earth Immersion gathered with members of the public on a farm oustide of Santa Cruz for our annual, weeklong Bird Language Intensive. We got up early, listened to the birds, mapped our findings and then talked about it for hours! There were lots of games, songs, stories and fireside conversations, too. And a hail storm. It was a great experience, even though my team didn't win the nest robbing game.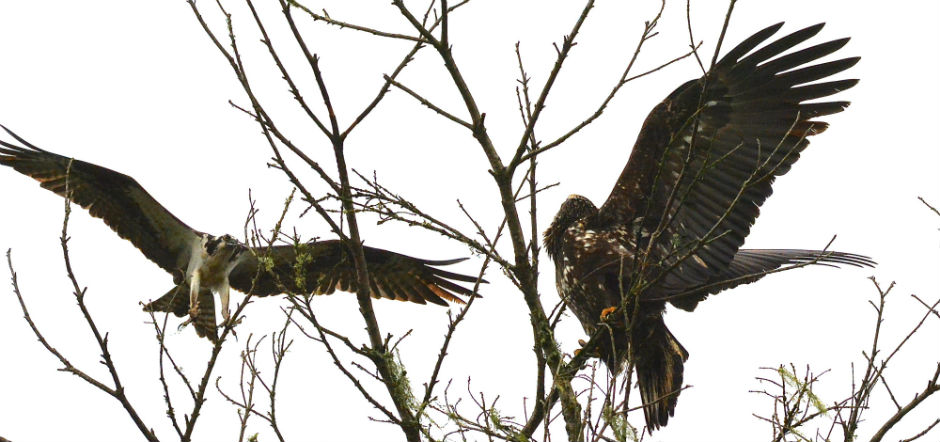 And osprey approaches a perched juvenile bald eagle. Photo taken in Point Reyes Station, CA.
Santa Rosa Permaculture Installation: April 2014
Last year's Weaving Earth immersion went through a permaculture design process with clients in Santa Rosa, CA.  A version of the design, which was for their front lawn, was installed and has become a community hub—offering an informal gathering space, a lending library, a tea station and other elements that have turned the block into the beginnings of a vibrant shared space.
Jim Hage sits out front of his Santa Rosa home before the permaculture design is installed. Photo by Dave Hage.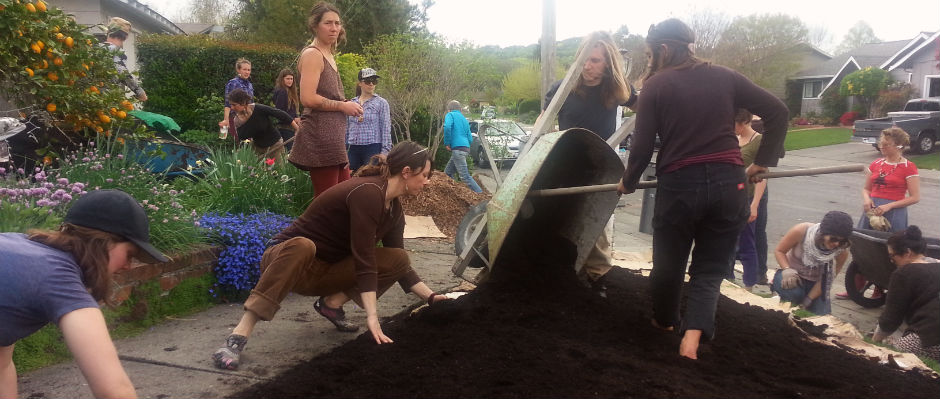 WE gets to work: sheet mulching, planting, taking out a brick wall, putting in benches and a new path and much more.

The completed installation. Transformation!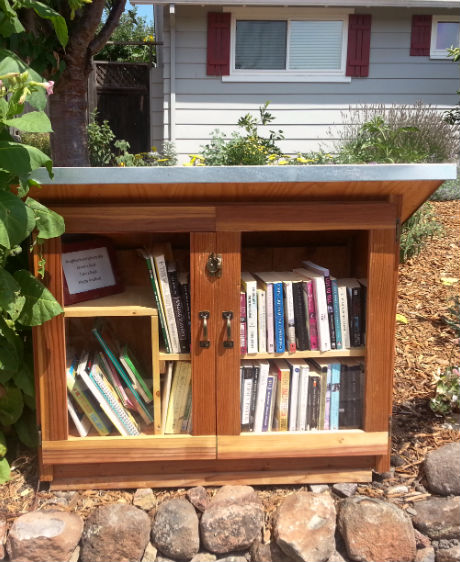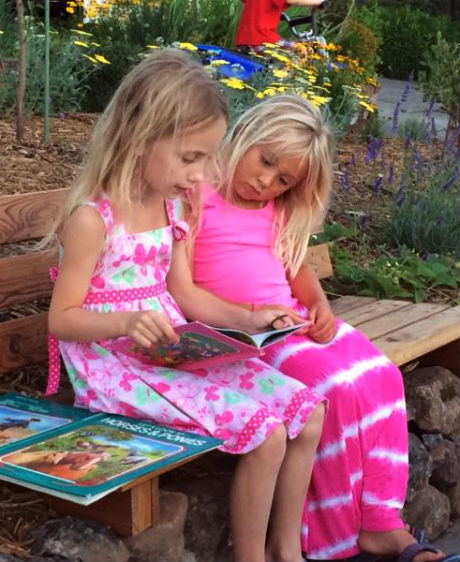 Left: The lending library. Right: Two young girls from the neighborhood read on one of the benches out front. Success!

Not bad for a days work!
The Buckeye Gathering: April/May 2014
The WE Immersion attended the 5th annual Buckeye Gathering, a week-long ancestral skills event organized by a number of WE's close allies, including Edward Willie, Tamara Wilder and Rusty Sparks (currently a participant in the WE Immersion). WE staff and some participants supported the Buckeye crew both before and during the gathering, offering design input and helping the event run smoothly at its new location in the foothills of the Sierra Nevada. Photographer Cliff Volpe took some great shots of the gathering, some of which are included below. Come join us at Buckeye 2015!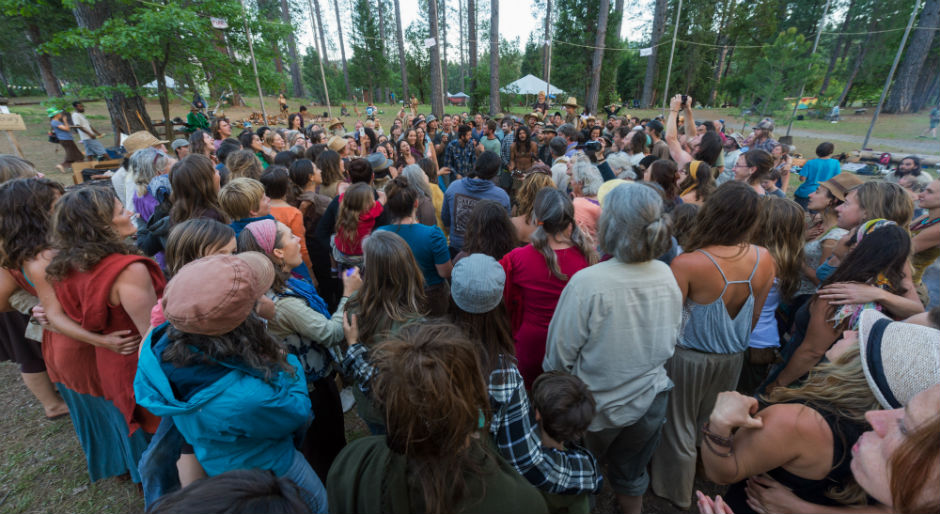 Singing at the Buckeye Gathering. Photo by Cliff Volpe.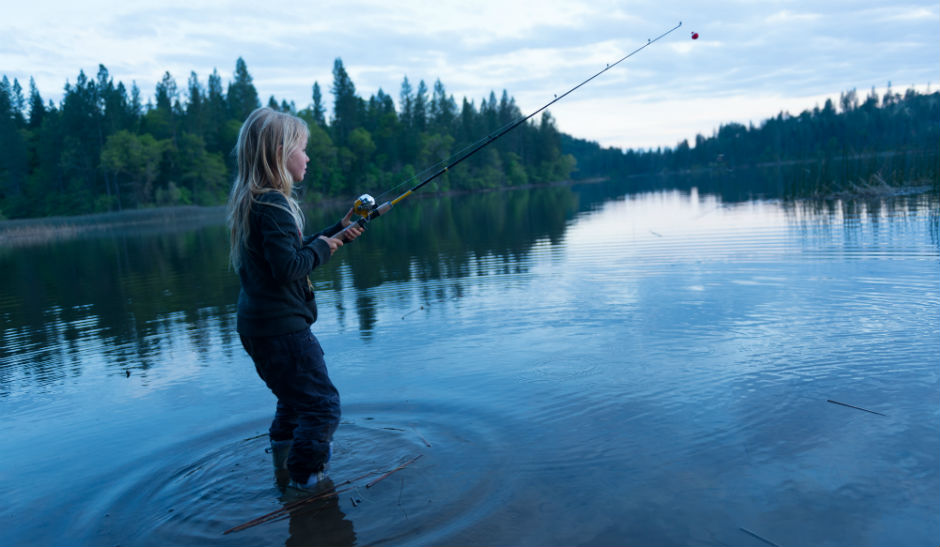 A young girl fishes in Lake Concow. Photo by Cliff Volpe.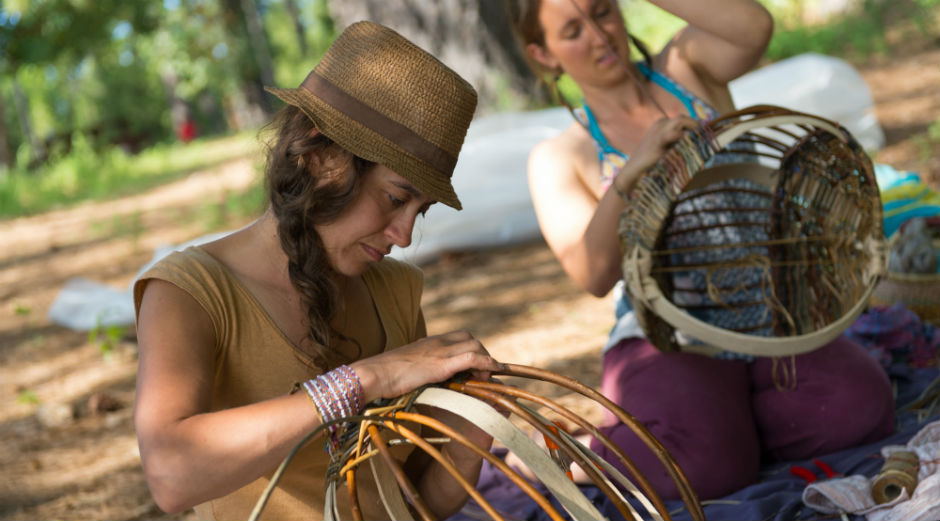 Working on willow baskets. Photo by Cliff Volpe.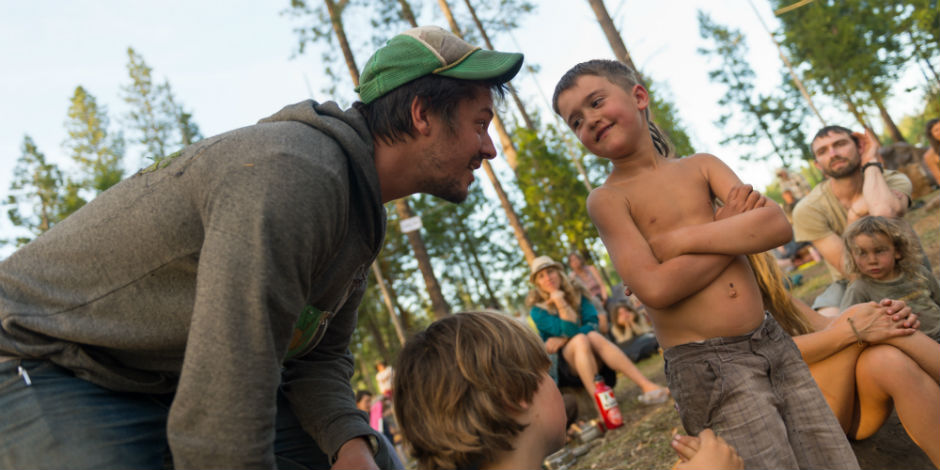 Weaving Earth's Sam Edmondson trades jokes with some kiddos during the Buckeye raffle. Photo by Cliff Volpe.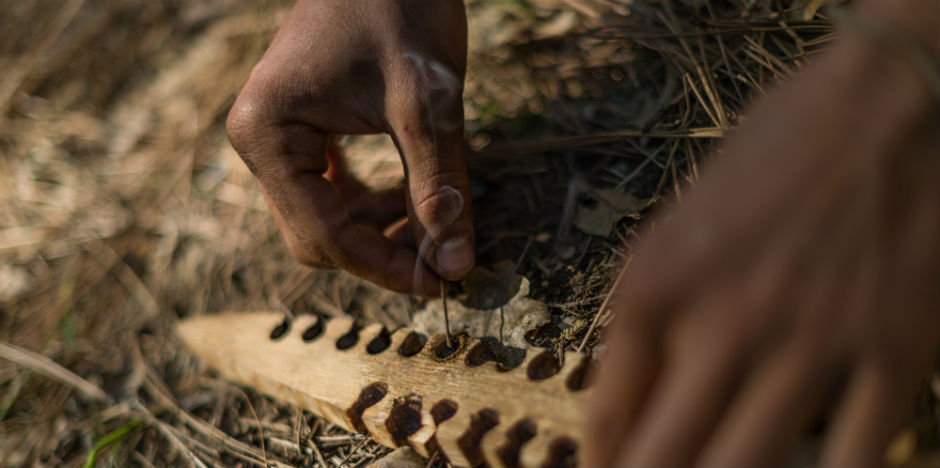 Working on fire by friction. Photo by Cliff Volpe.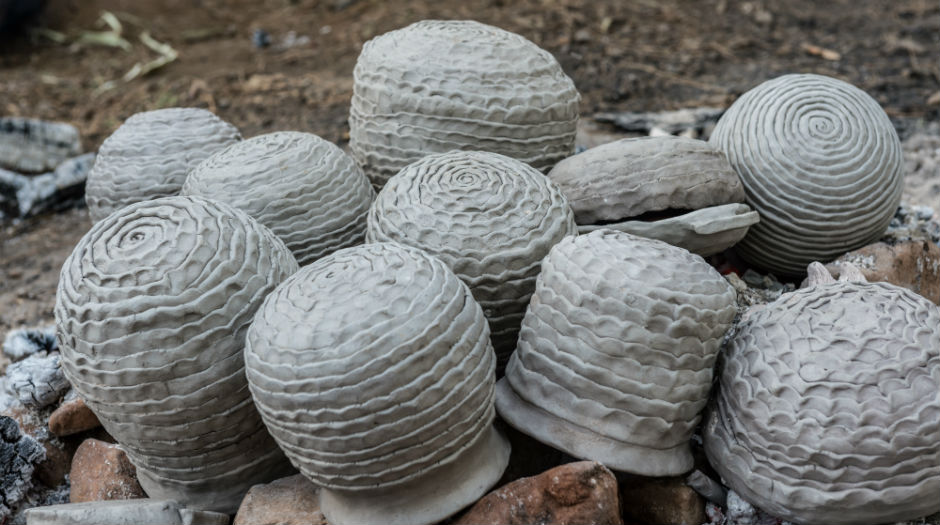 Participants' clay pots, getting fired. Photo by Cliff Volpe.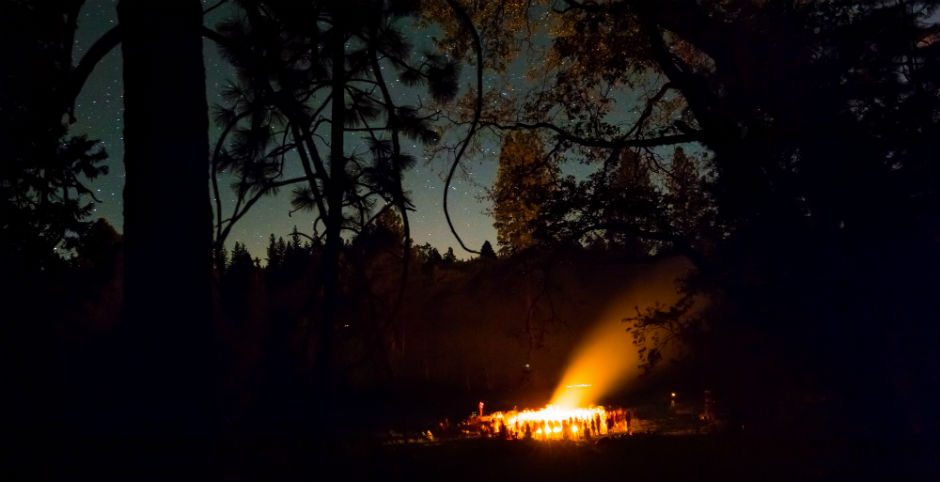 A fire at night. Photo by Cliff Volpe.
WE Immersion's First Graduation: May 2014
Weaving Earth celebrated its first graduation of the Immersion program in May 2014. More than 150 family and friends gathered together in the shady oaks for a celebration of the year's journey, followed by a potluck, fire and music.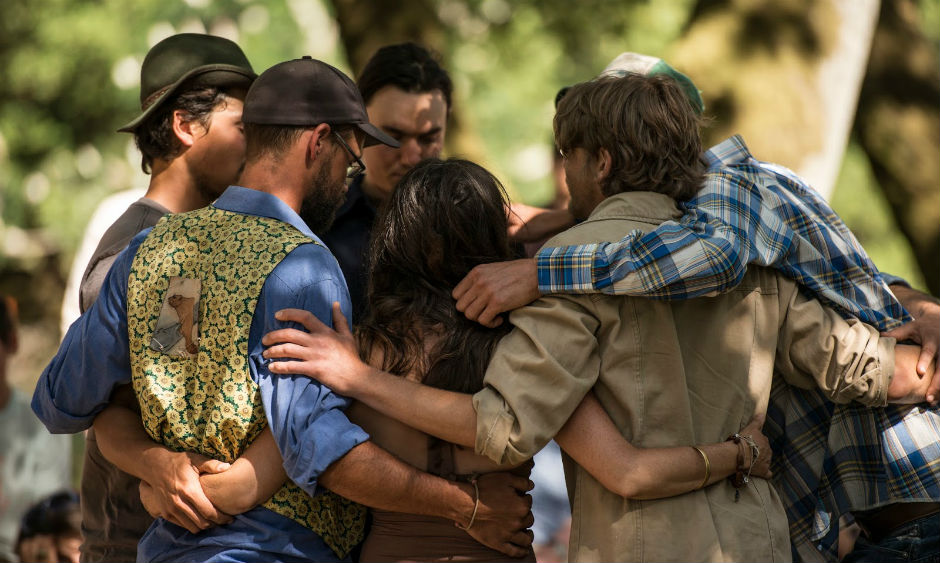 Good friends share a moment. Photo by Skip Moss.
Modeling Community on Natural Systems: June 2014
WE co-founders Dave Hage and Lauren Dalberth Hage joined an organization in Chico, CA, Cultivating Community North Valley (CCNV), to discuss how regenerative design and practices of deep nature connection can inform and guide community building. Members of the Chico organization GRUB were also present.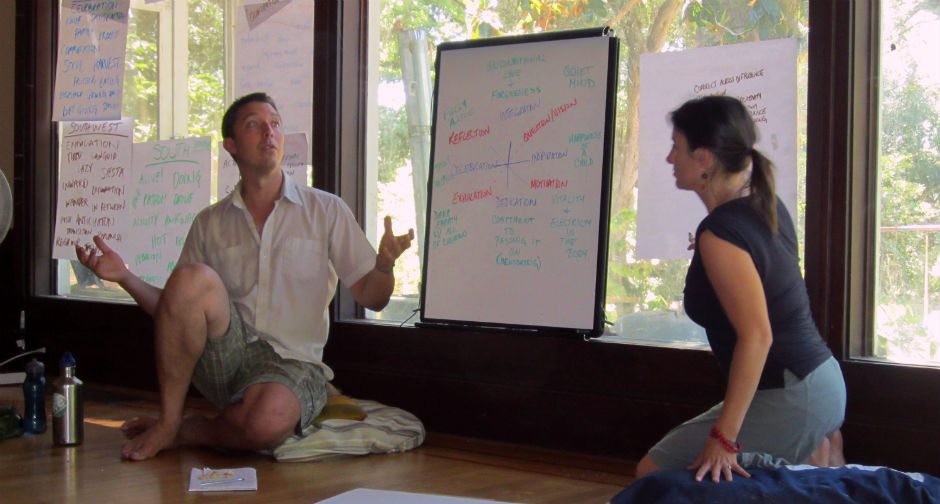 Dave and Lauren offering wisdom from deep nature connection practices and regenerative community design.
Santa Cruz Art of Mentoring: July 2014
The Art of Mentoring is a weeklong exploration of the core practices of deep nature connection and community building. The Santa Cruz event is one of dozens that happen around the world every year. Like previous years, this year's gathering in Santa Cruz was a total blast. It was for many participants their first Art of Mentoring experience! It was great to see so many new faces and hear so many new stories.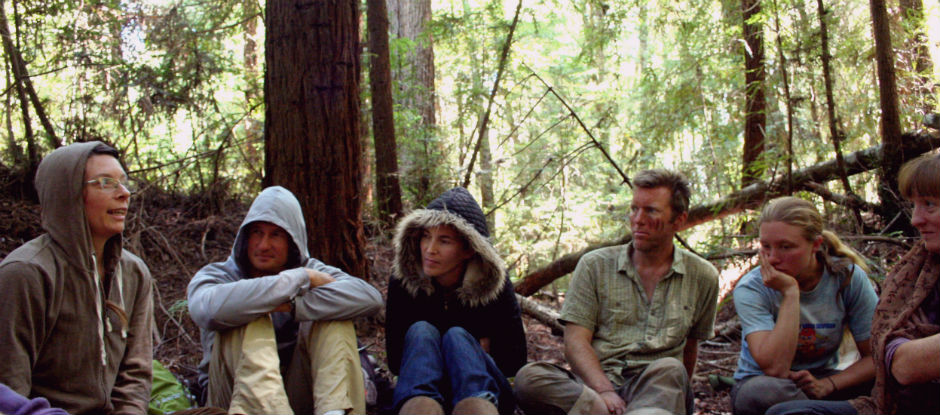 Small group session at the Santa Cruz Art of Mentoring, July 2014. Photo by Raleigh Campbell.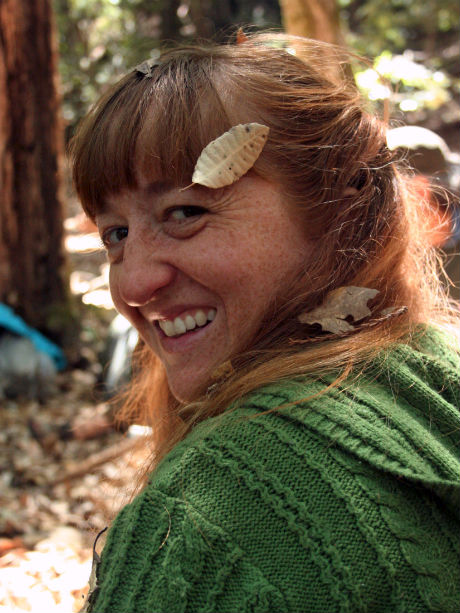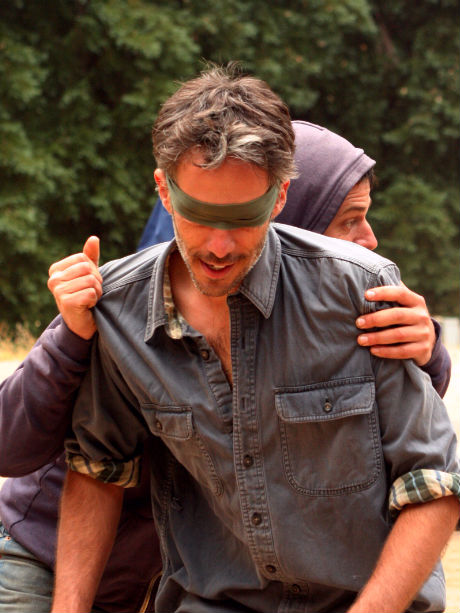 Left: Caitlin Williams, one of the Art of Mentoring Santa Cruz staff. Right: Weaving Earth's Will Scott (blindfolded) and Sam Edmondson, on their way to victory in an epic awareness game called "Nutty Squirrels". Photos by Raleigh Campbell.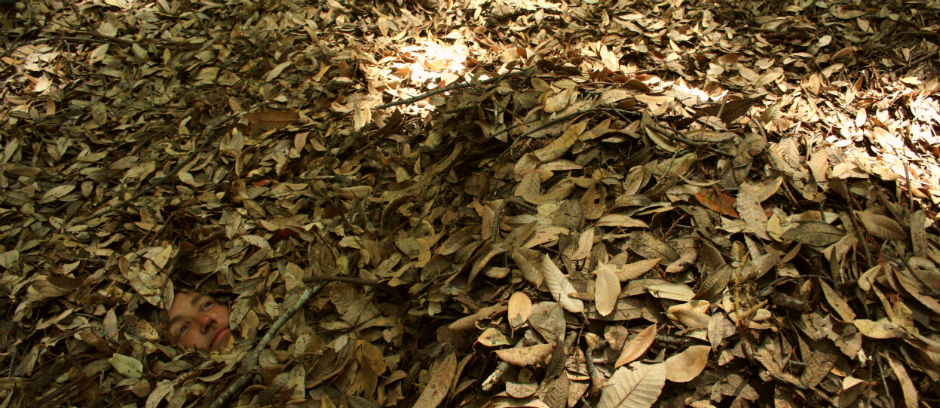 Practicing camouflage in a bed of leaves. Photo by Raleigh Campbell.
WE Wild Tenders Kids Program: September 2014
The second year of the WE homeschool program launched in September to great success. There are more young people participating than ever before, having new adventures on the landscape every Thursday and Friday. There's still time to register for the second half of the year if you are interested in having your child participate.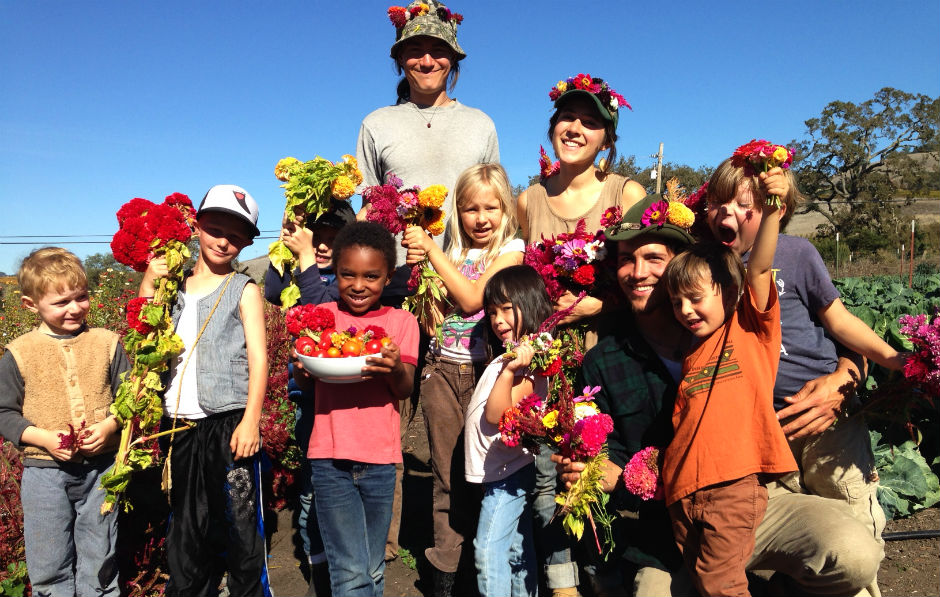 The Friday Wild Tenders program all flowered up with the youth staff: Chris Clarke, Melodie Kauff and Brendan Clarke. Hint: they're the big people.
Wildtending Immersion: September/October 2014
The entire WE Immersion spent nine days in the National Forest in late September and early October, with the goal of connecting deeply to place, each other and self while learning a variety of skills to help us tend the wild in a good way: tracking, cordage, acorn processing, archery, wild food and medicine identification, hide tanning, soaproot brush making, hunting techniques, the honorable harvest, reading the landscape, and more. It was a wild time in an absolutely stunning location.

Linsey Kluger and Chris Clarke spend a morning investigating tracks in the fine sand. Photo by Dave Hage.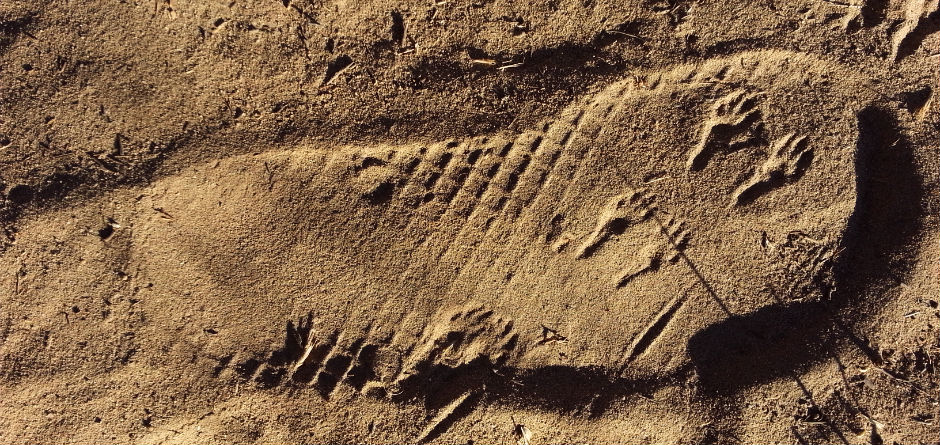 Humans and kangaroo rats share the trail. In this photo, a shoe print from the previous evening was bipedally hopped in by a kangaroo rat during the night. Photo by Dave Hage.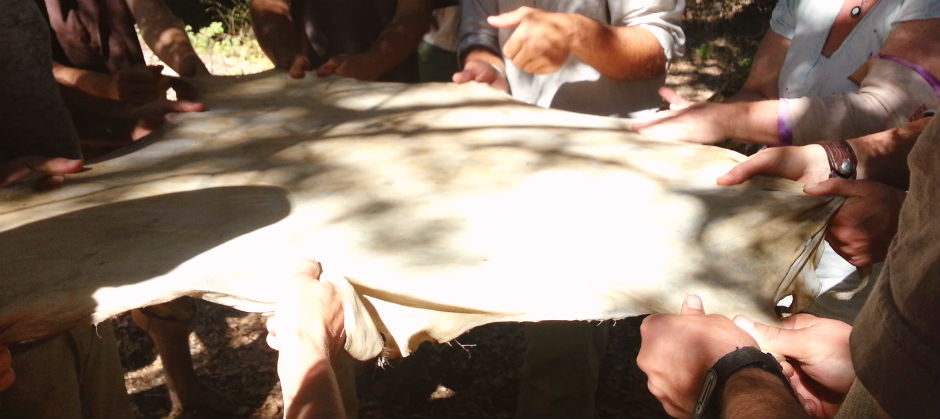 Stretching and softening an antelope hide. Photo by Dave Hage.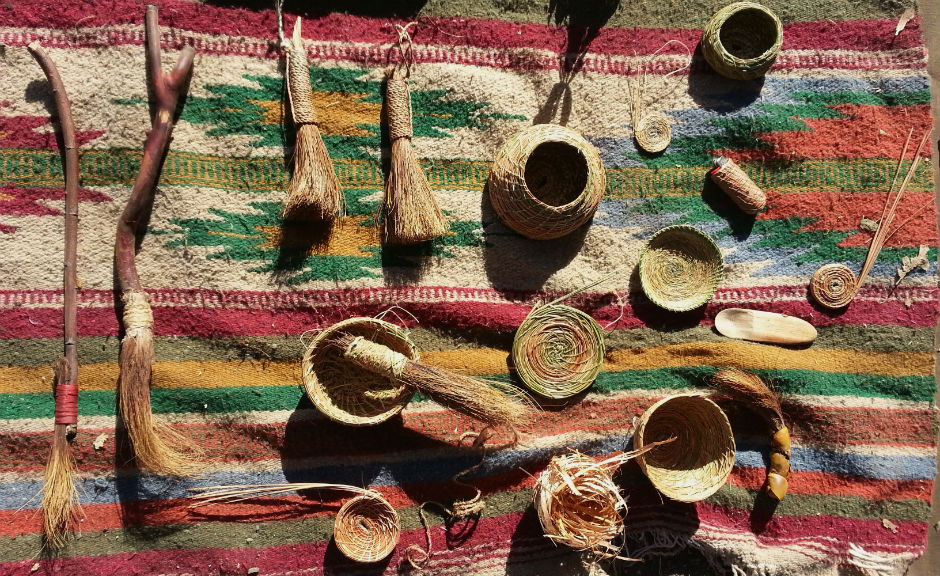 Soaproot brushes and pine needle baskets made by WE Immersion participants.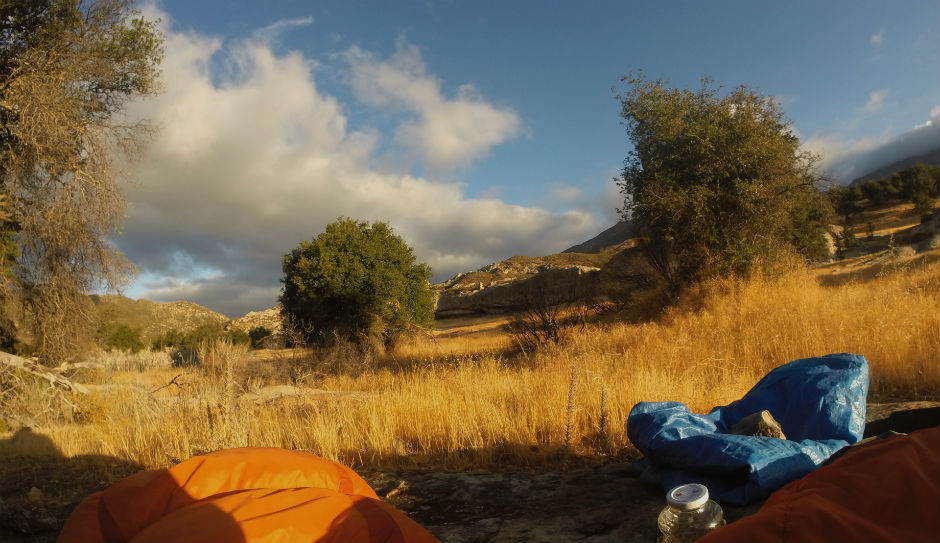 The morning view from a sleeping spot. Photo by Dave Hage.
Unungan Wisdom: October 2014
The WE Immersion was fortunate to spend time with Unungan (Aleut) elder Ilarion Merculieff, who was raised in a traditional village on St. Paul Island in the Pribolof islands in Alaska. Ilarion was joined by Sharon Shay Sloan, a close friend and ally, and together they offered a range of topics: conservation of indigenous land, healing gender dynamics, native Alaskan ways of teaching, the wisdom of the heart (which is impeccable, says Ilarion!) and much more. Later in the month, Ilarion and Shay co-anchored the Council Tent at Bioneers.

Lauren Dalberth Hage, Sharon Shay Sloan and Ilarion Merculieff posing on a beach.
Bioneers: October 2014
Members of Weaving Earth have been attending and supporting the Bioneers conference for years. For the last two years, however, Weaving Earth participants and staff have been supporting the conference directly via the Community of Mentors—a program within Bioneers that offers talking circles for youth participants (facilitated by WE participants) and small group sessions with conference presenters (faciliated by WE staff). Bioneers is a thought-provoking and inspiring event, and this year was no different. For a report on the voice of youth at the conference, check out a blog I wrote a few months back.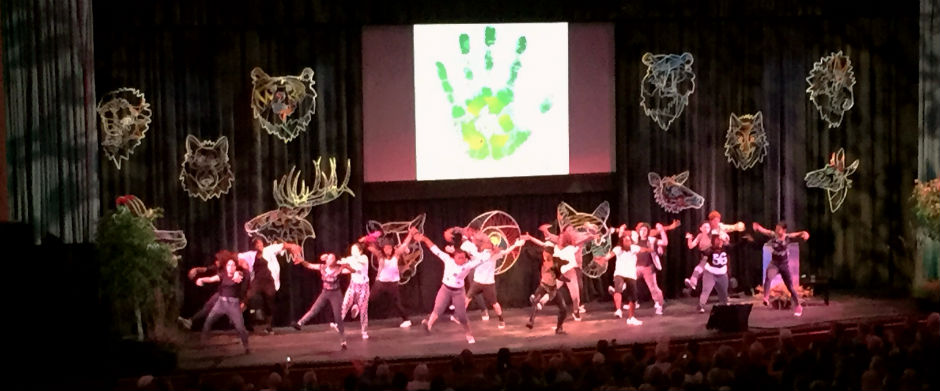 The Destiny Arts youth performance troupe performs onstage at Bioneers 2014.
Harvest and Acorn Celebration: October 2014
Weaving Earth co-hosted with Edward Willie (Pomo/Walaiki/Wintu) a seasonal festival to honor and give thanks to California's oaks and the fall harvest. This second annual public event was held in downtown Petaluma at the David Yearsly River Heritage Center and featured an array of wild and cultivated foods, crafts, songs, stories and more.
Setting up the welcome table at the Harvest and Acorn Celebration. Seasonal flowers and gourds abound!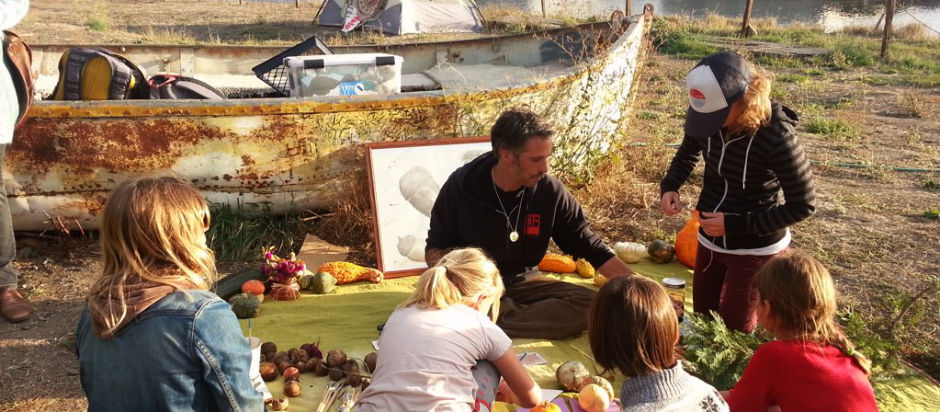 Will Scott teaches a group of young people to paint with natural inks made from oak galls and redwood cones, respectively.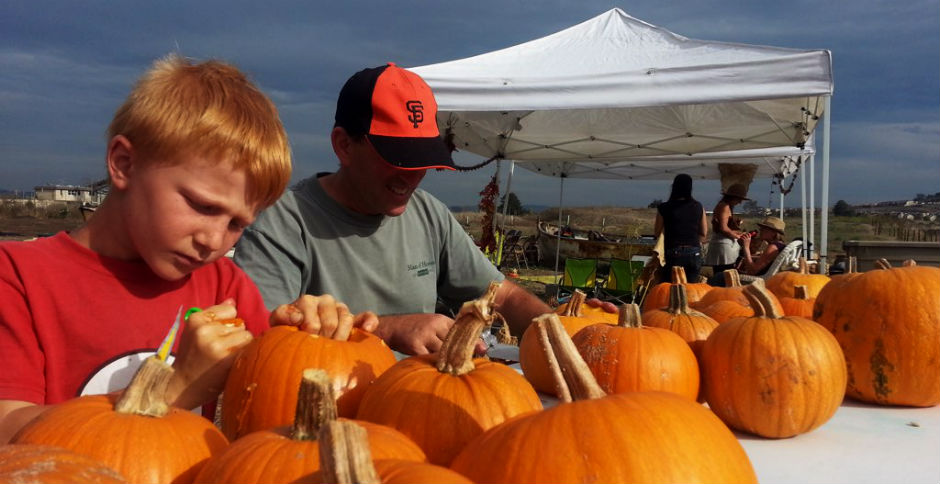 Rigo Rey and Rich Robinson, two participants in the Weaving Earth Immersion, get ready to carve some pumpkins.
Feasting Our Ancestors and Peacemaking in Practice w/ Paul Raphael (Odawa): November 2014
Paul Raphael, an internationally renowned Odawa Peacemaker and a close Weaving Earth ally, visited the WE Immersion in November for an annual ancestor feast (which he introduced us to a decade ago). During his visit, he also conducted an open-to-the-public weekend workshop with WE co-founder Lauren Dalberth Hage on Peacemaking in Practice.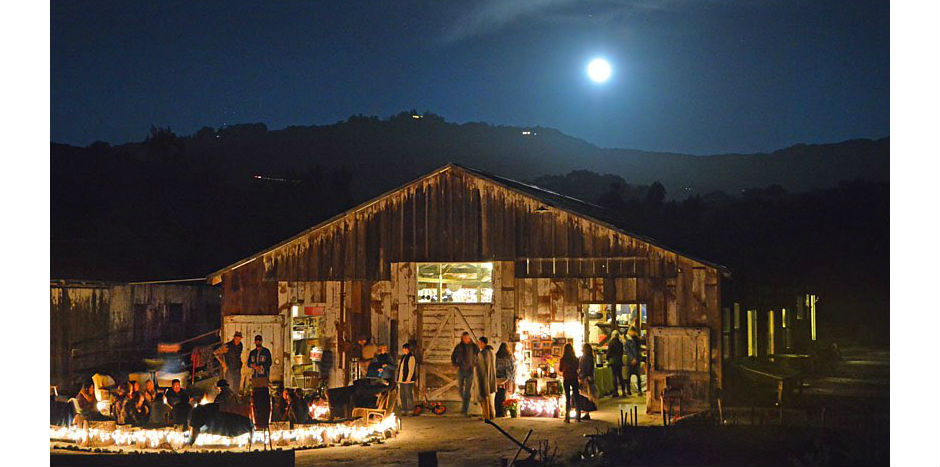 The moon rises over the annual feast to honor our ancestors. Photo by Scott Hess.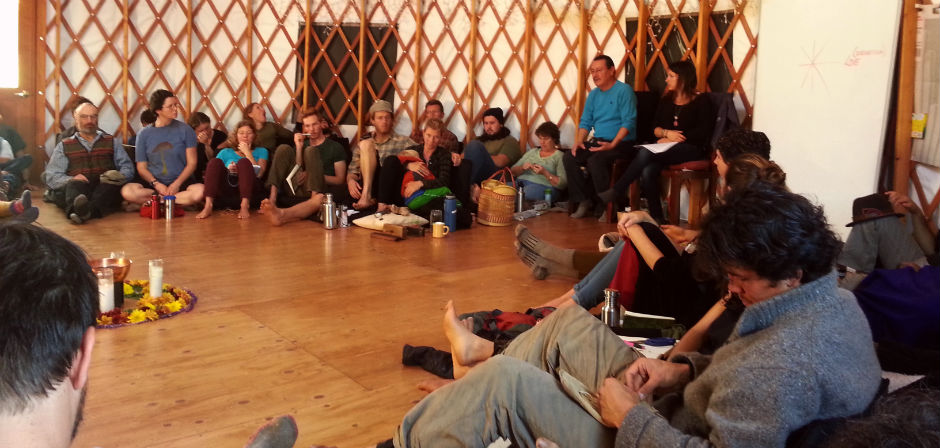 Paul and Lauren (right, seated in chairs) talk Peacemaking during the November workshop. Photo by Dave Hage.
CyberTracker Certification: November 2014
Twelve local trackers, biologists, and nature lovers joined David Moskowitz & Matt Nelson with trackercertification.com for two days of exploring the beautiful wild lands of west Sonoma & Marin counties. We are so impressed and happy to say that everyone in the evaluation received a certification! And, we are especially proud of the WE Staff who participated, all of whom received a level 3 track & sign certification. Congrats to Nic Moss, Sam Edmondson, Brendan Clarke, Chris Clarke, Will Scott and Dave Hage. Looking forward to the next one!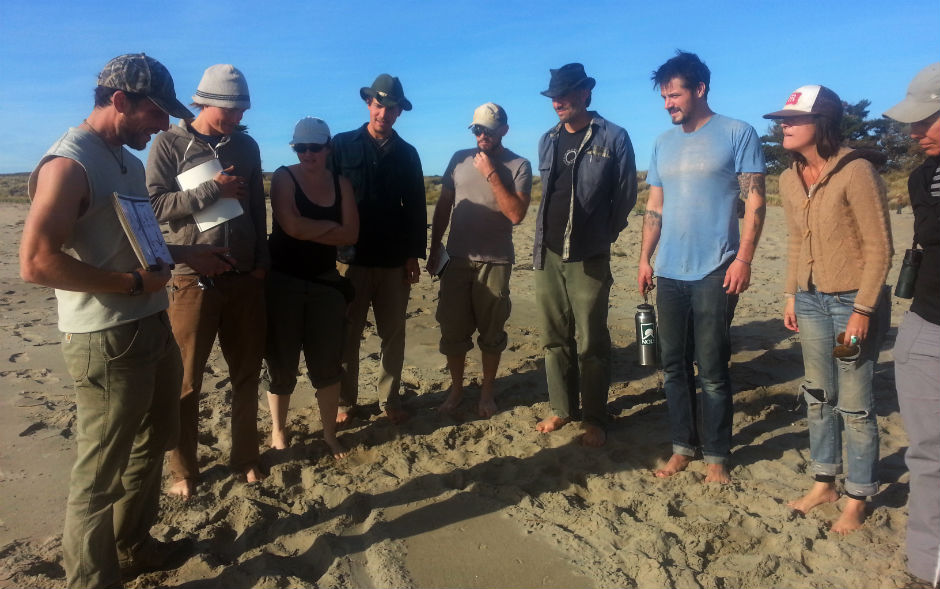 Discussing the finer points of plover tracks on Limantour Beach, with Dave Moskowitz (left).
Reciprocal Relationships Across Difference: December 2014
Weaving Earth welcomed Kaylynn Two Trees and Matt Kolan to guide us in a week dedicated to fostering reciprocal relationships across difference. We explored the intricacies of power, privilege, & diversity, as well as the tools & foundations that help build capacity for working with difference and tension in a generative way.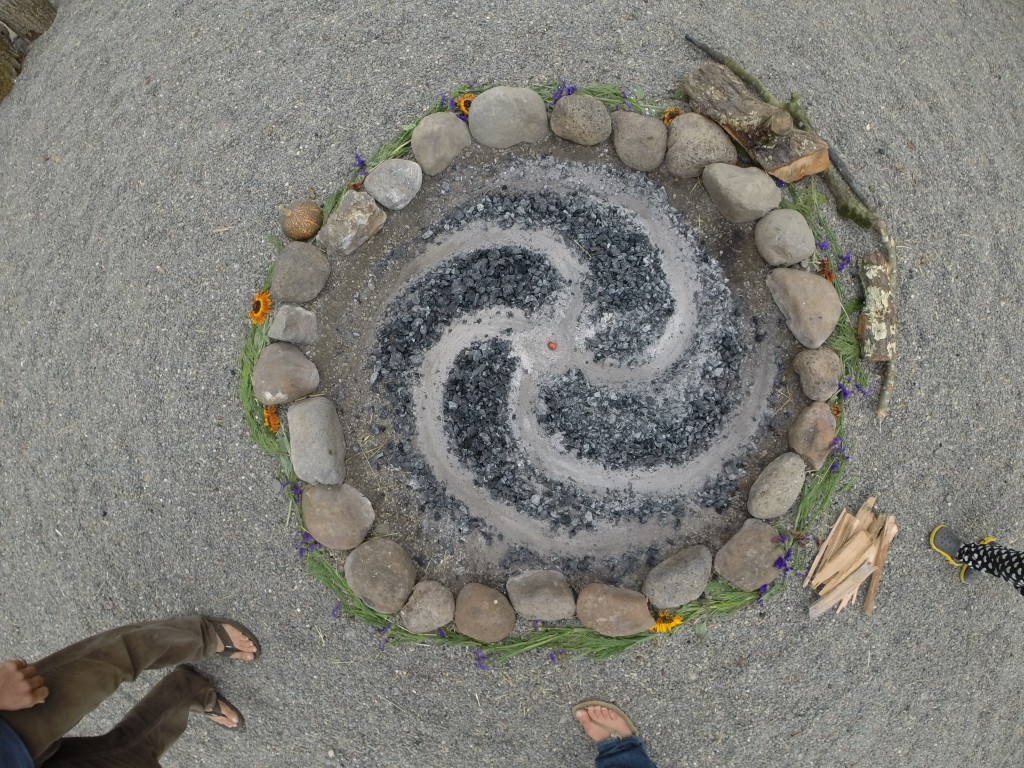 Welcoming the Rains!: December 2014
We are so thankful for the return of the rains that have brought a plethora of edible and medicinal plants and mushrooms, and the beautiful chorus of frogs. We have spent many days exploring and learning from the waterways as they've filled up after a very long, dry time. We send greetings to the waters and the life in the waters . We send our hearts forward to a year filled with abundance and vitality for all beings.